The meeting of representatives of Global Healthcare Travel Council, Turkish Healthcare Travel Council and Ukrainian Association of Medical Tourism with Minister of Health of Ukraine
Press release. The meeting of representatives of Global Healthcare Travel Council, Turkish Healthcare Travel Council and Ukrainian Association of Medical Tourism with Minister of Health of Ukraine - Oleg Musii
At the initiative of the Ukrainian Association of Medical Tourism on March 19, 2014 was conducted a meeting between  the Minister of Health of Ukraine Oleg Musii, the Head of the Global Healthcare Travel Council - Emin Cakmak, and representatives of Ukrainian Association of Medical Tourism and Turkish Healthcare Travel Council.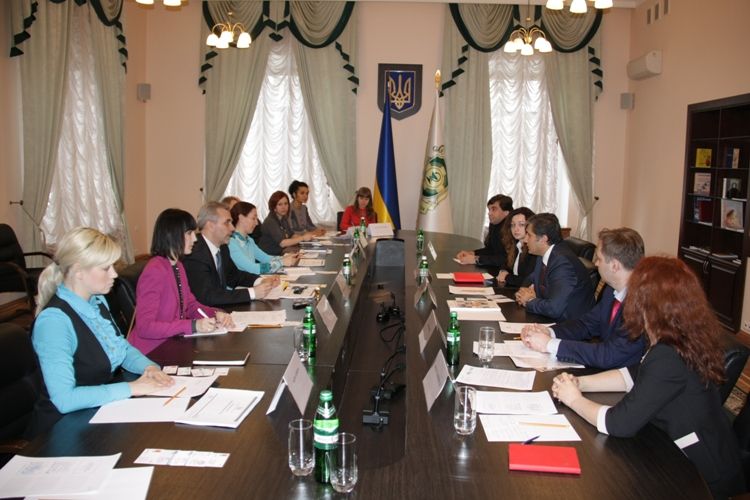 Emin Cakmak  informed about the tasks of the Global Healthcare Travel Council, which are to improve the skills of healthcare personnel, to involve investment into the healthcare and to find the best conditions and health facilities for the treatment of patients which can not get the complex healthcare in Ukraine due to certain legal or organizational reasons.
"Medical tourism is very well developed in the world, and Ukraine is a very attractive country for foreign investors. Therefore, as partners, we would like to be always with  Ukrainians - at difficult and cloudless times. So now, our Council offers assistance to Ukraine in investing and reforming healthcare industry, and we are ready to discuss the possibility of joint implementation of projects", - said Emin Cakmak.
He gave the example of Council's good practice of the medical reform implementation in Turkey. "12 years ago the Turkish healthcare system was the similar to the Ukrainian. Now Turkey is the third country after the U.S. and Germany, which accept  patients for treatment from all over the world. Into healthcare sector in Turkey was invested over $ 30 billion, more $ 20 billion planing to invest in the coming years.
And the most important - we were able to change  approaches to providing healthcare services. So, we are ready to share our experience with Ukraine, "- stated Emin Cakmak.
 Oleg Musii supported the view of foreign colleague, noting that Ukraine has many attractive recreational areas with unique capabilities and medical institutions for investment. This applies to the Western Ukraine with its natural features and areas that have sources of mineral and curative waters, natural rehabilitation centers. So, our country can become a powerful center for medical tourism.
"In Ukraine, there are some general hospitals, which need investments for the normal functioning, for example, Okhmatdet. It is also necessary to create a specialized centers for bone marrow transplantation, the implementation of which will significantly save public funds for the treatment of patients abroad and it is the important business project to attract patients from other countries.
There are many  projects for professional cooperation in Ukraine, because the new Ukrainian government is trying to attract investment, and open to cooperation with foreign partners with transparency of all procedures, "- said Oleg Musii.
Civil society plays special role in this process, - noticed Minister of Healthcare of Ukraine. According to him, non-governmental organizations must ensure the success of joint programs through public scrutiny of transparency and openness of all cooperation aspects. Also,  he is a man who 20 years worked in the civil society, so  absolutely convinced in it.
At the end of the meeting Emin Cakmak offered free treatment in Turkish hospitals for 20-25 injured during mass riots in Kiev and assisting in inpatient treatment at the German and Finnish hospitals. He also informed the Minister about the possibility of providing humanitarian assistance to Ukrainian hospitals - medical equipment.
Oleg Musii has thanked foreign counterpart for caring and charity. Also, he said that the number of victims treating in the national hospitals is constantly decreasing. So, Emin Cakmak's proposal  is very timely to provide Ukrainians physical and psychological rehabilitation in the postoperative period.
Materials from web-site: http://www.moz.gov.ua/ua/portal/pre_20140319_e.html#