Post Release of International Medical Tourism Exhibition and Conference MTEC.Kyiv.2015
On 29th of  September – 1st of  October in Kiev was held  successfully one of the largest events in Ukraine in the field of medical tourism - International Medical Tourism Exhibition and Conference MTEC.Kyiv.2015, which is traditionally held in parallel with the exhibition "Public Health" and Tourism market "UITM" .
Organizers of the exhibition - Premier Expo, Global Healthcare Travel Council and Ukrainian Association of Medical Tourism.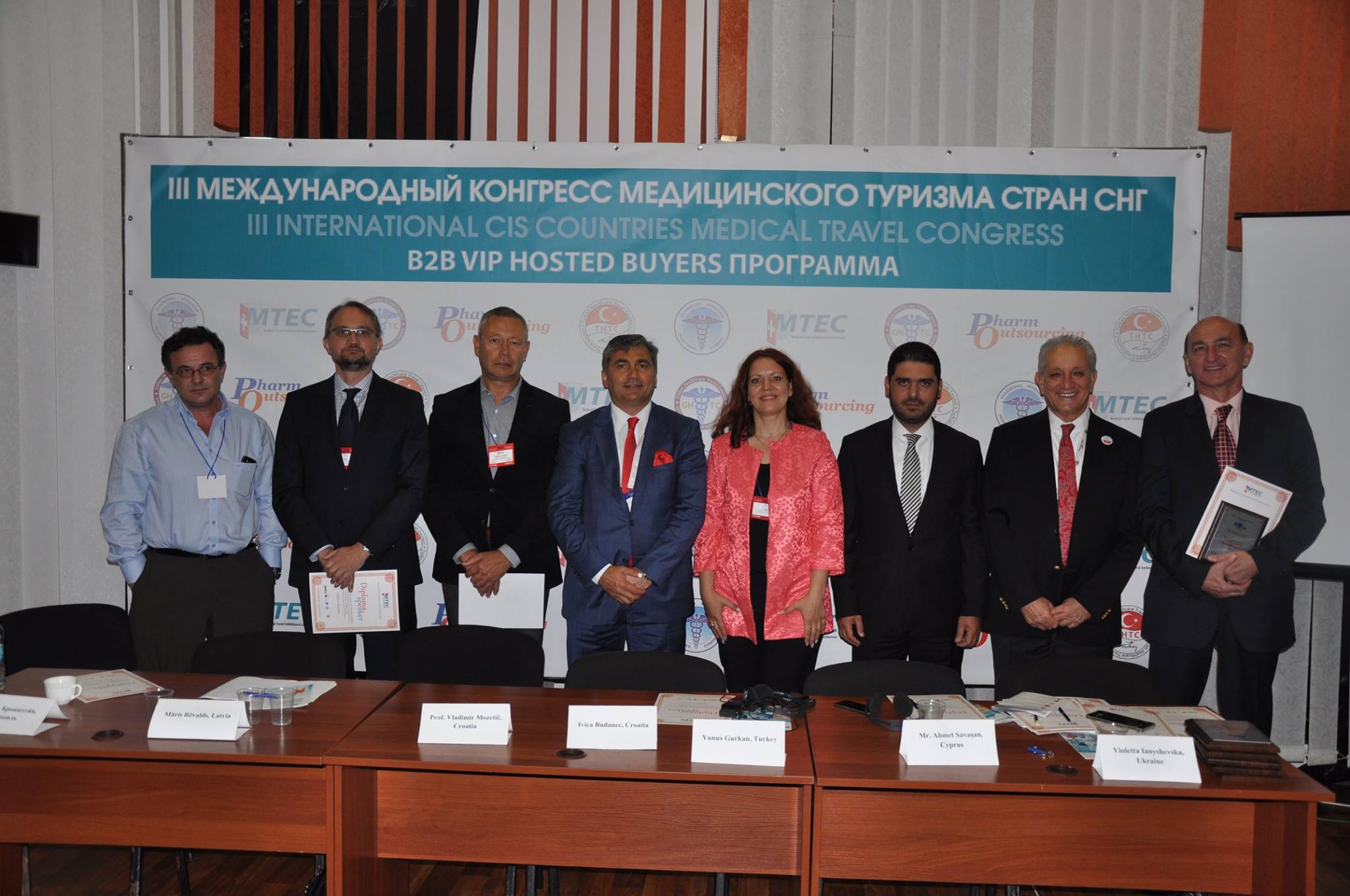 Participants of the MTEC.Kyiv exhibition were medical and rehabilitation centers, hospitals, agencies and medical tourism clusters of  Ukraine, Turkey, Germany, Israel, Croatia, Austria, Latvia, Lithuania, Poland, Hungary, Cyprus, the Czech Republic.
Anyone within three days had the opportunity to visit the exhibition stands of healthcare companies to explore the activities of organizations, services, achievements and advantages of the treatment. The  stand of the Ministry of Health of Ukraine was working for answers to the professional questions about  health system of Ukraine.
As always, the exhibition was attended by a large delegation from Turkey with the presentation of 8 medical centers with  the  leading  one - Turkish Healthcare Travel Council.
 Within the exhibition on September 29th, was held the 3rd International Congress on Medical Tourism with the presentation of different areas of  medical tourism. Traditionally, Congress was started with  the chairman of the Global Healthcare Travel Council - Emin Cakmak and  the chairman of the Ukrainian Association of Medical Tourism - Violetta Ianyshevska. During the Congress leaders of clusters and associations from Ukraine, Turkey, Croatia, Latvia, Israel, Cyprus presented their achievements and advantages in healthcare, and opportunities for treatment of foreign patients. At the Congress also took place the  awarding certificates "Ukrainian Medical Tourism Association recommends 2015" leading Ukrainian and foreign medical companies for successful cooperation and significant contribution to the development of medical tourism.
International Medical Tourism Congress passed  fluently  in International Business program, which was held at the Art Hotel Bakkara, that was  close to the exhibition center. B2B program had  speed dating format and became efficient platform for medical companies and medical tourism operators (MD, doctors coordinators, assisting, insurance and travel agencies representatives, representatives of specialized Internet  platforms  and printed mass media). The target audience was carefully selected in advance, ensuring maximum efficiency in a short time. The presentation attracted the attention of participants of such companies as: Unimed (Israel), International Medical Science Center (Hungary), Genesis Dnepr, Center of brain stimulation, Isida (Ukraine), Scanmed (Poland), Kvarner Health Tourism Cluster, Pelvic Center Adria Alpe (Croatia), Junisa (Germany). B2B program has been finished with lottery of valuable prizes and gala-dinner.
September 30th was dedicated to the two specialized sessions for physicians. In the morning - on rehabilitation one, in the afternoon - on innovations in the world medicine. On the conference  recognized experts presented unique  technologies of treatment and rehabilitation.Tere were  raised the  questions concerning neurorehabilitation ("Oberig",  International Clinic of Rehabilitation), post-stroke rehabilitation ("Oberig", Klimkovice Sanaroria), general rehabilitation (Scanmed, Grand Marine), the treatment with using "Water Jet» («Pelvic Center Adria Alpe»), treatment of veins with using "biological glue» («Baltic care»), the innovative method of treatment of complex open wounds ("Dentaum"), treatment and rehabilitation with the use of cellular technologies (ilaya, Liv Hospital), bone marrow transplantation (Liv hospital), using PET-CT in Ukraine ("LISOD", "Feofaniya"), the value of a multidisciplinary approach to treatment (ONMedU University Hospital, Clinic "Dobrobut") and others. Doctors also had an opportunity to get answers to their professional questions. Special sessions were a useful tool for sharing experiences, acquiring new knowledge and get valuable contacts.
All speakers were awarded with  certificates of appreciation from the Ukrainian Association of Medical Tourism for the opportunity to participate in activities and share their experiences.
Welcome to  MTEC.Kyiv.2016!