Possibilities of Cerebral Palsy treatment by the professor Kozyavkin method in Kuwait
The incidence of Cerebral Palsy, despite all the advances technologies of modern medicine, is still growing, which is becoming perhaps the main problem of childhood disability. Kozyavkin Clinic has been a locomotive in the treatment of cerebral palsy and related diseases for more than 15 years. This allows other countries to learn experience of Ukrainian physicians and more effectively treat childhood neurological diseases
On November 28-29, a delegation of experts in the field of medical rehabilitation and physiotherapy of the Ministry of Health of Kuwait, in particular,
Dr Aziza Alazemi, Dr Laila Husain, Dr Ibtesam Alwazzan, Dr Fager Alabdulhadi, made a working visit to Kozyavkin International Rehabilitation Clinic in Truskavets, aiming to get acquainted with Professor Kozyavkin's innovative method of intensifying patients with Cerebral Palcy (CP) and other diseases of the central nervous system - and consider setting up specialized rehabilitation clinics in Kuwait for the treatment of childhood neurological diseases.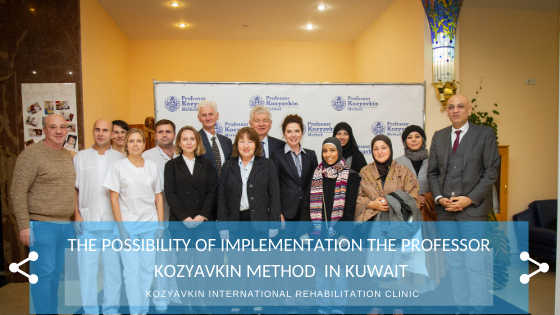 Vivus Medical Rehabilitation Company will introduce Professor Koziavkin Method in the international markets of the Middle East, Asia Pacific, Europe and North America, so for the official presentation of the introduction of Professor Koziavkin Method in Kuwait, VMRC jointly with Kuwait Science and Technology Company in Kuwait / Embassy of Ukraine in Kuwait organized a meeting in Truskavets to allow specialists to see with their own eyes the process of rehabilitation of patients in the clinic, to get acquainted with the main aspects and system of rehabilitation of this method, the evidence base and ongoing clinical research conducted by the scientific team of the clinic.
UAMT consideres this event as an additional contribution, with the participation of Ukraine, to the development of international medical tourism, in particular towards rehabilitation of patients with cerebral palsy.