Medical safety on the airplane board
Medical tourism is gaining momentum and air travel is the most rapid, convenient and safe way for the patient to reach their destinations. That is why Ukrainian Association of Medical Tourism opens the section devoted to medical patient's safety during air travel.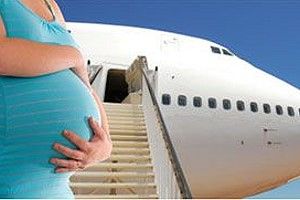 How to arrange the air travel without risk and negative health effects? What to consider in the trip planning? After all, many passengers have a chronic illness or certain physiological features of the body, affecting the normal flights tolerability. Even just being on aircraft may be the cause of stress for the traveler and lead a certain deviation from the norm. In this article we would like to give you some useful advices for people with chronic diseases, as well as pregnant women, especially women with high-risk pregnancies, or for women with long period of pregnancy. These advices will help to make your travel more comfortable.
The most important rule: if you have some disease - ask a question to your doctor about the medical safety of the flight for you personally.
Also remember: Passengers who have taken prescribed medication should always take its on board in their hand luggage. This is especially important if you are taking medication for heart disease, diabetes, or epileptic attacks. This rule should be binding for such passengers, despite the fact that all airplanes have medical first-aid kit with basic medicaments on board.
Now, let's talk about the most important and vital organ - heart.
During the flight people with heart diseases or with an implanted cardiac pacemaker can have some complications, so they should think in advance about their health. So, There are a few recommendations on how to protect such travelers:
1)      always keep your medicaments next to you;
2)      it is better to abandon the proposed on the board salty foods, alcohol, coffee and caffeinated drinks;
3)      make and keep next to you a list of medicaments for which you have allergies;
4)      take along a copy of the last ECG;
5)      if you have installed an artificial pacemaker or arterial stent, carry with you a document with information about it, and a brief manufacturer's description of the device in several languages.
Also, there are some recommendations for complications preventing:
1) move more, walk on aisle, so the best location for you - in a chair near the aisle;
2) drink more water;
3) use compression stockings on the lower extremities;
4) take a tablet of aspirin, if you have any contraindications.
According to the currently doctors'  recommendations, there are such contraindications to flights:
• myocardial infarction less than 2 weeks ago
• heart bypass surgery less than 3 weeks ago
• unstable stenocardia
• decompensated heart failure
• uncontrolled cardiac arrhythmias.
Pregnancy and flights
Also, we would like to give some recommendations for pregnant women who plan flights. It is believed that air travels are prohibited for pregnant women, but it is not so. Most doctors allows pregnant women to fly, of course, in case there are complications with the pregnancy.
It is important to remember that women who previously had miscarriage, premature birth, or any other health risks to woman or her unborn baby cannot get approval from a doctor to travel by plane at any terms of pregnancy. There can be some risks  for current pregnancy.
Many airlines are very attentive to the needs of pregnant passengers. If the airline received notice of pregnant woman, it can  offer to take more comfortable seat or stroller for support. Usually, such services are not offered for the other passengers.
The closer date of baby birth -  the less likely that the airline will allow woman to travel without the written doctor's consent, issued no more than 3 days before the flight. We are often asked the question: "Until what period of the pregnancy woman can fly?".
Remember, a pregnant woman can fly, especially over long distances, not later than 36 weeks of pregnancy (not later than 32 weeks with multiple pregnancy). The woman who gave birth abroad, we recommend returning by plane not earlier than seven days after the birth.
These rules exist in airlines not only to limit their liability, but to ensure the safety and comfort of a pregnant woman, people with heart diseases and other passengers.
Wishing you health and comfortable travel,
Ukrainian Association of Medical Tourism