Forum "Invest & Trade in Ukraine '16"
Dear Sir/Madam, 

On behalf of A7 CONFERENCES we would like to invite you to "Invest & Trade in Ukraine '16"Forum that will be focused on development of medical hospitals of Ukraine, to be held on September 21-22, 2016 in Israel Hall of the Israel Export & International Cooperation Institute (29 Hamered St.,Tel Aviv, Israel).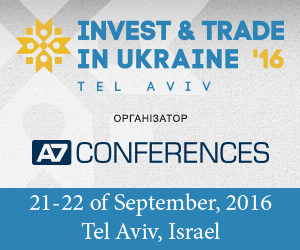 The Forum is organized by
A7 CONFERENCES,
co-organized by
Israeli Institute for Export and International Cooperation
and supported by the
Embassy of Ukraine to the State of Israel and the Embassy of the State of Israel to Ukraine.
Strategic Partner of the Forum -
"ArtBudService" Construction Company
, Official Carrier –
Turkish Airlines
, Investment Partner –
A7 CAPITAL,
Exhibition Partner –
Orange Park Residential Complex.


Israel has one of the most technologically advanced and highest-quality healthcare systems in the world. Hospitals in Israel are equipped with modern facilities and high-quality medical technology; medical personnel are very well trained. Israel is also a powerhouse in medical innovation. It is a world leader in medical and paramedical research, bioengineering capabilities, abiotechnology and clinical research. In November 2015 Bloomberg ranked Israel the
sixth healthiest country in the world
, taking into account data from the United Nations, the World Bank and the World Health Organization.
The event will become an outstanding opportunity to receive the exceptional insights of Israeli medical hospitals, adopt successful practices, get in contact and forge the relationships with Israeli side for future successful partnership and projects.

Day 1 (September 21, 2016). Panel discussions and networking dinner with Ukrainian and Israeli companies.
Day 2 (September 22, 2016). Site visits "Business insight" – attendees of Invest & Trade in Ukraine series will have an exclusive opportunity to visit Assuta Medical Center, Sheba Medical Center, Herzliya Medical Center and learn best practices from respective international companies.

Among the Forum's speakers are
Hennadii Nadolenko, Ambassador Extraordinary and Plenipotentiary of Ukraine to the State of Israel;
Einav Shimron Grinboim, Deputy Director General, Information and International Relations Department, Ministry of Health of the State of Israel;
Elizabeth Solovyov, Head of Trade and Economic Mission of the Embassy of the State of Israel to Ukraine;
Angela Rabinovich, Head of Life Science Department, Israeli Export and International Cooperation Institute;
Michael Amsel, President and Co-founder, LISOD - Israeli Oncology Hospital;
Mykhaylo Radutskiy, President, Boris Clinic,
Vladimir Shapira, Medical Director, Carmel Medical Centre.

Full agenda can be found here.

Terms of participation:for the C-suite executives.of Ukrainian companies – 299.00 USD; for Israeli companies – free of charge.

Exclusively for members of Association of medical tourism discount on participation of 10%. PROMO CODE - UAMT.

Please REGISTER online.