Currently we are witnessing an outbreak of gout – How to recognize the disease?
Christmas and New Year festivities with tables laden with food cause people an outbreak of gout. For some people, excessive consumption of food ends in the aggravation of the disease. With others, gout symptoms appear for the first time in the post-holiday period.
Gout symptoms are a sudden, sharp pain which often starts at night, a swelling and redness in some of the joints, most often at the base of fingers or  in a  knee joint.
Gout is one of the oldest diseases mentioned in world history. It has been documented more than 2 500 years before Christ by ancient Egyptians. Gout has been well-researched and understood. However, the myth of its incurability is still alive.
Gout is curable
"Gout is a rare form of arthritis which is curable," Anna Mihailova, the rheumatologist of the ORTO clinic, stresses. As usual in the post-holiday period, the number of her gout patients has noticeably increased. The doctor emphasizes that even though gout symptoms pass a few days after the outbreak, they should not be treated lightly and a doctor should be consulted. Gout is seldom limited to one outbreak. If the disease is left untreated, it can affect more and more joints and tissues, damage them and become harder to treat.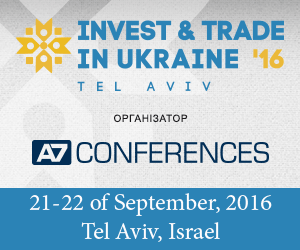 Dear Sir/Madam, 

On behalf of A7 CONFERENCES we would like to invite you to "Invest & Trade in Ukraine '16"Forum that will be focused on development of medical hospitals of Ukraine, to be held on September 21-22, 2016 in Israel Hall of the Israel Export & International Cooperation Institute (29 Hamered St.,Tel Aviv, Israel).

The Forum is organized by A7 CONFERENCES, co-organized by Israeli Institute for Export and International Cooperation and supported by the Embassy of Ukraine to the State of Israel and the Embassy of the State of Israel to Ukraine. Strategic Partner of the Forum - "ArtBudService" Construction Company, Official Carrier – Turkish Airlines, Investment Partner – A7 CAPITAL, Exhibition Partner – Orange Park Residential Complex.

Israel has one of the most technologically advanced and highest-quality healthcare systems in the world. Hospitals in Israel are equipped with modern facilities and high-quality medical technology; medical personnel are very well trained. Israel is also a powerhouse in medical innovation. It is a world leader in medical and paramedical research, bioengineering capabilities, abiotechnology and clinical research. In November 2015 Bloomberg ranked Israel the sixth healthiest country in the world, taking into account data from the United Nations, the World Bank and the World Health Organization.
Capital Clinic Riga about P

reventive medicine and Genetic tests 
Preventive medicine focuses on maintaining physical and mental health of an individual as long as possible; it consists of prevention of several diseases and anti-aging medicine, both aimed to perform a preventive control of organism aging process throughout one's life, to avoid risk factors and precisely choose the most suitable kind of prevention (change of lifestyle, recommended medication, vitamins, microelements, food, recommended additional tests, etc.)
The goal of preventive medicine is to optimize state of health satisfactory at any age BEFORE a disease develops, is diagnosed and treated.
At Capital Clinic Riga clients are consulted by Dr. med. Jana Janovska:
   - Preventive medicine specialist,
  - Chairman of Baltic Association of anti-aging and preventive medicine, 
  - Lecturer of Internal diseases department at Riga Stradinsa University (RSU) and RSU scientific researcher,
  - Dr. Jana Janovska for several years mastered preventive medicine knowledge in Paris and Luxembourg.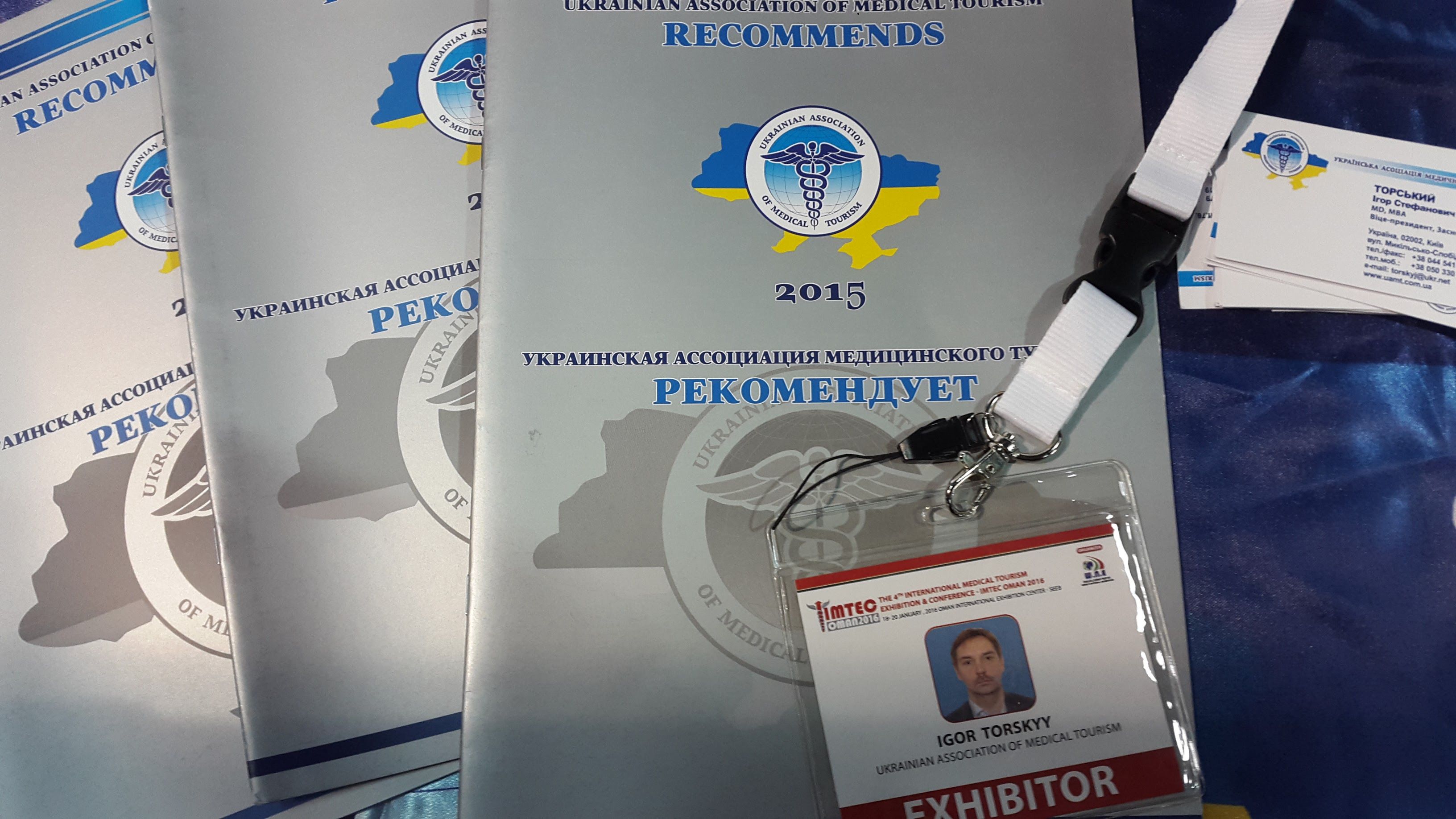 Medical Tourism in Action: members of the UAMT took part in the exhibition of medical tourism in the Arab region - IMTEC.Oman.2016
IMTEC.Oman 2016 had hosted of the international players of medical tourism in Muscat during 18-20 January. UAMT acted as a media partner and had promoted the medical benefits of the members of UAMT. The big Ukrainian booth united of the members UAMT which represented of hospitals and other organizations. The visit of the Ukrainian delegation gave a start to develop a closer partnership in the field of medical tourism between our countries.
A feature of this exhibition is that in addition to representatives of hospitals, doctors and providers, visitors of the exhibition, there are also patients who want to solve their medical problem. About 70 000 patients from Oman look for the treatment abroad  annually .
IMTEC.Oman exhibition is a good opportunity to increase the number of foreign patients.
Active promotion UAMT members. English-language catalog "UAMT recommends" for foreign markets
Press release of the second meeting of the Committee on International Cooperation and Medical Tourism
05.11.2015
Kiev
On 05.11.2015  took place the second meeting of the Committee on International Cooperation and medical tourism. Among the participants were the representatives of public associations, who chose this Committee  as main and additional same time.
Among the main issues on the agenda was discussion of the Committee's work in December 2015 and 2016, consideration of proposals for the organization of the Committee on recovery and rehabilitation and the Charity Committee  in health care as a subcommittee of the Committee on International Cooperation and medical tourism, and other current questions.
Our address
02002, Ukraine, Kyiv
Nikolsko-Slobodskaya st., 1a, of. 76
Phones
Tel / Fax: +38 044 541 09 79
Mob tel.: +38 050 330 10 08
Working Hours
Mon-Fri from 9:00 to 18:00
Email
e-mail: This email address is being protected from spambots. You need JavaScript enabled to view it.