20 to 22 May 2021
________________________
NORTH AFRICA'S LARGEST PLATFORM FOR MEDICAL TOURISM
WANT TO WORK WITH AFRICA?
African Medical Tourism Congress - a good opportunity for this!
HUNDREDS OF PARTICIPANTS FROM MORE THAN 20 COUNTRIES
THOUSANDS OF MEETINGS WITH POTENTIAL PARTNERS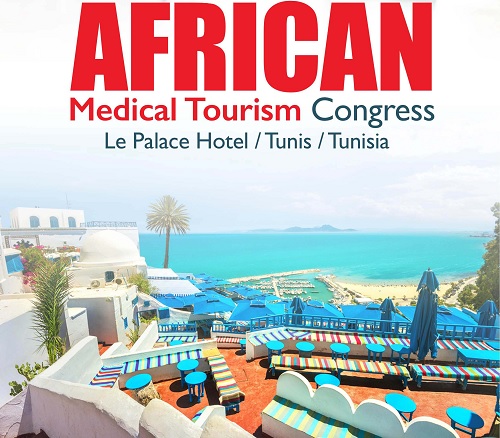 Tunisia benefits from a strategic geographical position which makes the country a junction point between the Arab world, Africa and Europe. It is a good reason to run African Medical Tourism Congress here, in Tunisia. It could be a great opportunity to open new markets, especially Africa & the Arabian world.
The history of Tunisia is a long swing between Africa, East and West. Medinas, fortresses, Carthaginian remains, Romans ... seven sites and monuments are inscribed by UNESCO on the World Heritage List for their cultural value: these are the sites of Carthage, Dougga, El Jem and Kerkouane as well as the medinas of Tunis, Kairouan, and Sousse. Tunisia has achieved a happy synthesis of multiple influences. Andalusian refugees, Italian artisans and Turkish sponsors have all made their mark. This is how the Testour minarets are reminiscent of Spanish architecture, the Kairouan ceramics use Ottoman motifs, the Beys mausoleums - sovereigns of Tunis - are decorated in marble in the Italian style. Likewise, freed Africans are at the origin of a specific musical style called "stambali". This cultural richness is also found in gastronomy with Berber, Andalusian and Turkish roots.
DELEGATIONS FROM COUNTRIES:
ALGERIA
MOROCCO
LIBYA
EGYPT
SUDAN
MAURITANIA
IVORY COAST
BURKINA FASO
NIGER
NIGERIA
GABON
CHAD
UGANDA
FRANCE
ITALY
TURKEY
SPAIN
SAUDI ARABIA
BAHRAIN
KUWAIT
OMAN
JORDAN
IRAQ
IRAN
INDIA
UKRAINE
African Medical Tourism Congress offers you a wide range of opportunities:
Participation in the exhibition (both with its own stand and at the national one), B2B program, scientific and educational events.


Discuss the details and format of your participation with the UAMT manager.

Don't forget to inform your partners and customers about your participation in AMTC!