Medical tourism. This is area of tourism, main objective of that is organizing the treatment of patients abroad and it is relatively new tourism direction for many countries. Its main difference from traditional holiday abroad is opportunity to combine relaxation with receiving high quality appropriate medical services. Also there are popular services of diagnosis and diseases prevention abroad.
Medical tourism is very well developed in the world's, even in ancient times patients could overcome a very considerable distance to get medical help from the famous healer or doctor.
Currency, medical tourism is becoming more and more popular due to modern well-developed clinics are willing to accept clients from all around the world. It allows the patient to choose a specialist not only in the native country but to get medical assistance of the best specialists from other countries.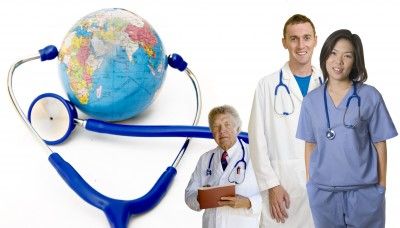 Benefits of treatment abroad
The main advantages of medical tourism can be described as:
Price. Sometimes you can save up to 90% of money for treatment;
Ability to obtain medical assistance using an unique methodologies, that are absent in your region;
Using the latest equipment in the operations;
Advices and support from doctors with a worldwide reputation in appropriate field of medicine;
Treatment abroad provides access to procedures that are not practiced in your region.
The main tasks of medical tourism
The main purpose of organizations that provide medical tourism services is not just organization for client a trip for treatment to another country, but to provide maximum support during the patient's stay for treatment in another country.
Thus, a patient from any country gets the opportunity to obtain the most complete medical care using the latest technology at any part of the world.
Medical tourism in Kiev and Ukraine
UAMT (Ukrainian Medical Tourism Association) is a nonprofit organization that provides healthcare services to patients which need medical treatment abroad. The main UAMT's objectives are to increase overall level of healthcare, patient safety in treatment abroad, as well as providing the necessary medical care for patients with complex and rare diseases.
UAMT is located in Kiev, the capital of Ukraine. Its activity promotes the development of medical tourism in Ukraine and worldwide. Thus, the UAMT's activity blurs the boundaries that exist in modern medicine.
We are, as the Ukrainian Association of Medical Tourism, believe that if the patient decides to obtain a medical or diagnostic aid abroad:
the patient should have alternative proposals from different clinics and from different countries;
have the opportunity to receive treatment in the best clinics at leading experts;
be sure of the quality of services provided.
We can help you to get it!
The main medical direction for inbound medical tourism:
Fertility;
Heart surgery;
Dental;
Ophtalmology;
Rehabilitation;
SPA&Wellness;
Plastic surgery;
Orthopedic;
The main outgoing medical tourism directions:
Oncology, incl. pediatric;
Hematology, incl. pediatric;
Ophthalmology;
Cardiology, incl. complicated heart surgery;
Transplantology;
Plastic surgery;
Neurosurgery;
Orthopedics and traumatology.
! The cost of medical services in Ukraine on 40-90% lower than in Europe